Mobile Earth & Space Observatory (MESO)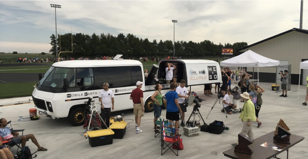 In 2017, NSSTI began deploying MESO, our mobile STEM laboratory/observatory designed to provide informal and formal education relating to Earth and space sciences. MESO is a "science center on wheels," that engages and excites students, teachers, and the public with inquiry-based hands-on educational and research activities focused on solar activity, weather, climate, atmospheric and space sciences, renewable energy, scientific instrumentation and science methodology. MESO is typically operated with two scientist-educators. MESO's August 2017 deployment to Sutton, NE, to conduct research during the total solar eclipse is depicted here. Additional deployments were made to public venues and schools throughout the 2017-2018 school year.
To learn more about the MESO project visit the project webpage at GoMESO.org .